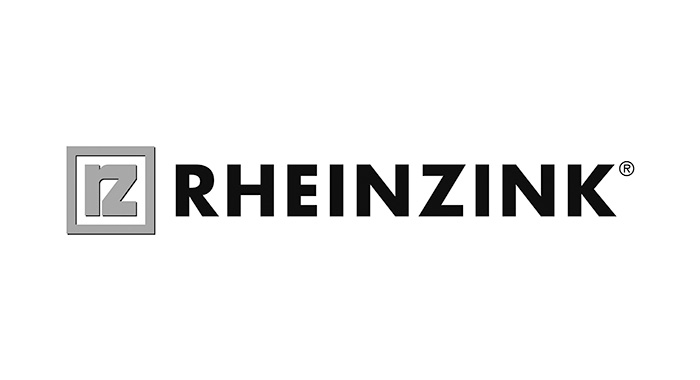 RHEINZINK is a trade name of titanium zinc produced in compliance with DIN EN 988.RHEINZINK standard, i.e. an alloy of zinc received using electrolyte method according to DIN EN 1179 norms with up to 99,995 % purity and accurately defined fractures of copper and titanium. Alloy composition defines technological features of material as well as RHEINZINK patina color.
Raw material is melted, ladled, rolled and uniformly coiled in a single continuous work process. These coils are ready for further treatment at the enterprise being a universal raw product for fabrication of RHEINZINK high quality gutter system, profiles, and elements for roofing assembling and facade facing work.
RHEINZINK has three main kinds of surfaces:
Walzblank represents a classic material due to its specific metallic luster. It is widely used for façade facing and roofing arrangement. It is simple in service especially within time period when dim grey patina appears on zinc titanium surfaces.
Blaugrau represents the material which is preliminary treated in plant conditions using special technology. Thanks to this treatment the customer receives roofing elements with already aged gray color which is received within 1-2 years in natural conditions of service. Besides, it is perfectly adapted for transportation, does not form spots. Practically, it is universal for application in construction.
Schiefergrau has perfect appearance and noble color thanks to dark gray plumbaginous surface. It looks like natural slate. It perfectly fits both façade facing and reliable environmental roofing material.
Material properties
Specific weight - 7,2 g/cm 3
Melting temperature - 418 °C
Recrystallization at temperature > 300 °C
Longitudinal direction coefficient of elongation: 2,2 mm/m x 100K
Cross direction coefficient of elongation: 1,7 mm/m x 100K
Elastic modulus ≥ 80,0000 N/mm²
Does not subject to magnification
Non-flammable